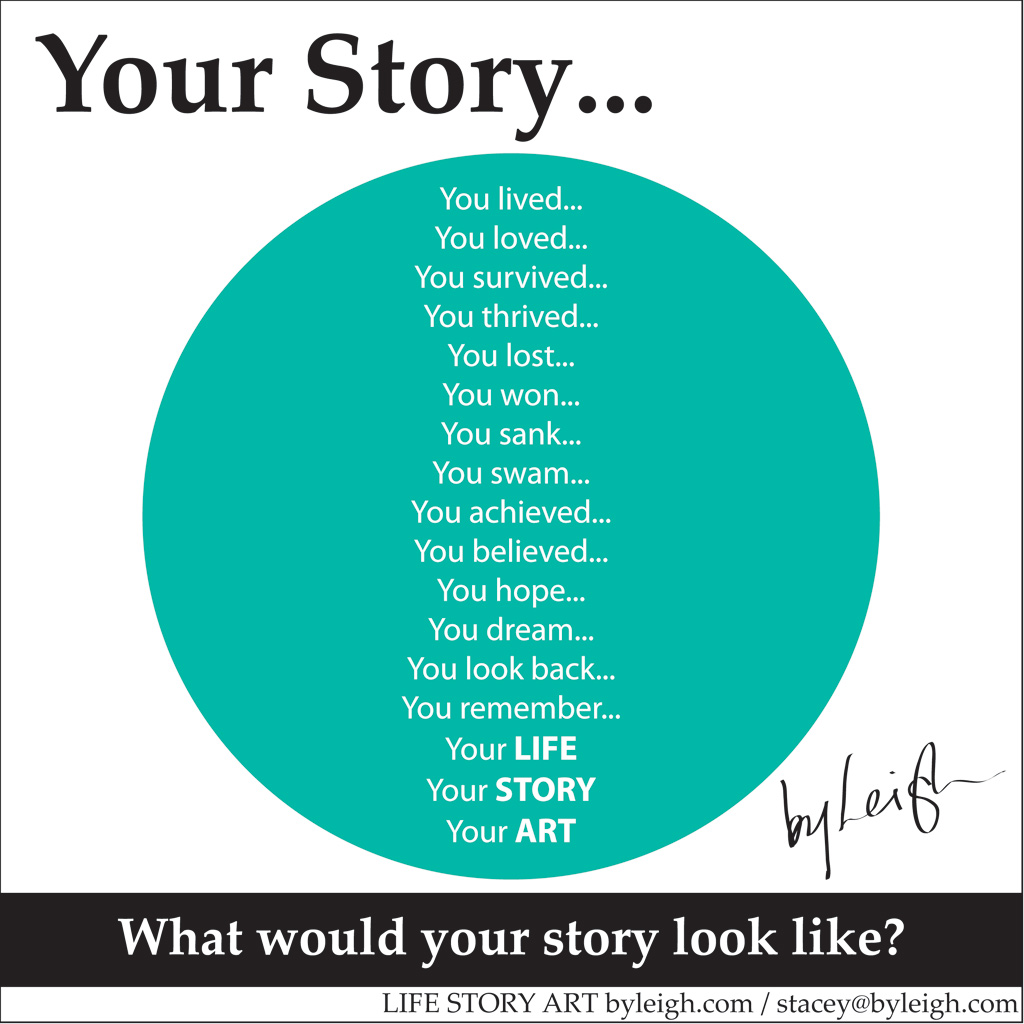 25 Jun 2017
What is Life Story Art?
Life Story Art is the uniquely commissioned art by Stacey Leigh Ross of By Leigh. It takes the story of you or your loved one (or whoever you're commissioning this for) and turns it into art that reflects the person that it's made for. Aspects of your story are hidden within a piece of art that reflects your personality and style. The artwork is designed and created so that only you will know the meaning and significance of each element of the painting. It's like hiding your diary in plain sight; you can share as much or as little of your story as you like. Email by Leigh to request a quote.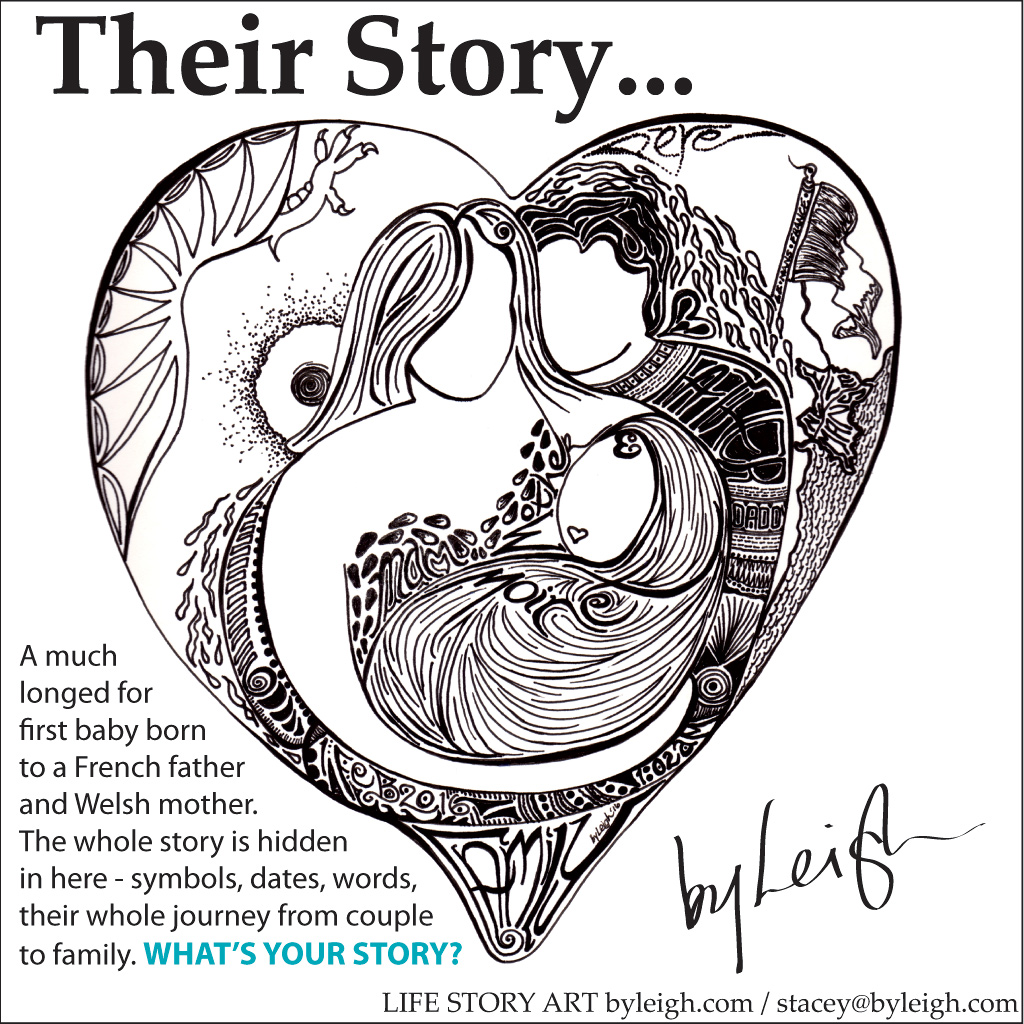 How much does it cost?
Life Story Art pieces can be line drawings, acrylic or mixed media paintings on canvas, or specially designed for reprinting onto any surface of your choice – clothing, curtains, cushions, phone cases, etc. The price generally depends on:
The size of the artwork you desire
What surface you choose (e.g. stretched canvas, board, fabric, digital, etc) and framing, if required.
If you have all the elements of your story or if I will be required to do any research (e.g. when I did the Manor House Mural for a Grade II listed building, I had to do the research about the building at the relevant local archives and libraries)
If you are supplying any/all of the personal materials needed in the piece e.g. photos, newspaper articles, old addressed envelopes, favourite quotes in a loved one's handwriting and so on. These are the things that make the mixed media pieces so personal.
As a guide, the smallest Life Story Art option is a black and white line drawing. These are roughly 25 x 25 cm, on stiff paper and start at £500. From Wales to Argentina (pictured partially below) is a sample of this type of Life Story Art. On the other hand, one of the largest life story pieces I've done so far has been a 5 canvas mural spanning 3m for JD Wetherspoon Royston –  The Manor House Mural. Please contact me for a quote.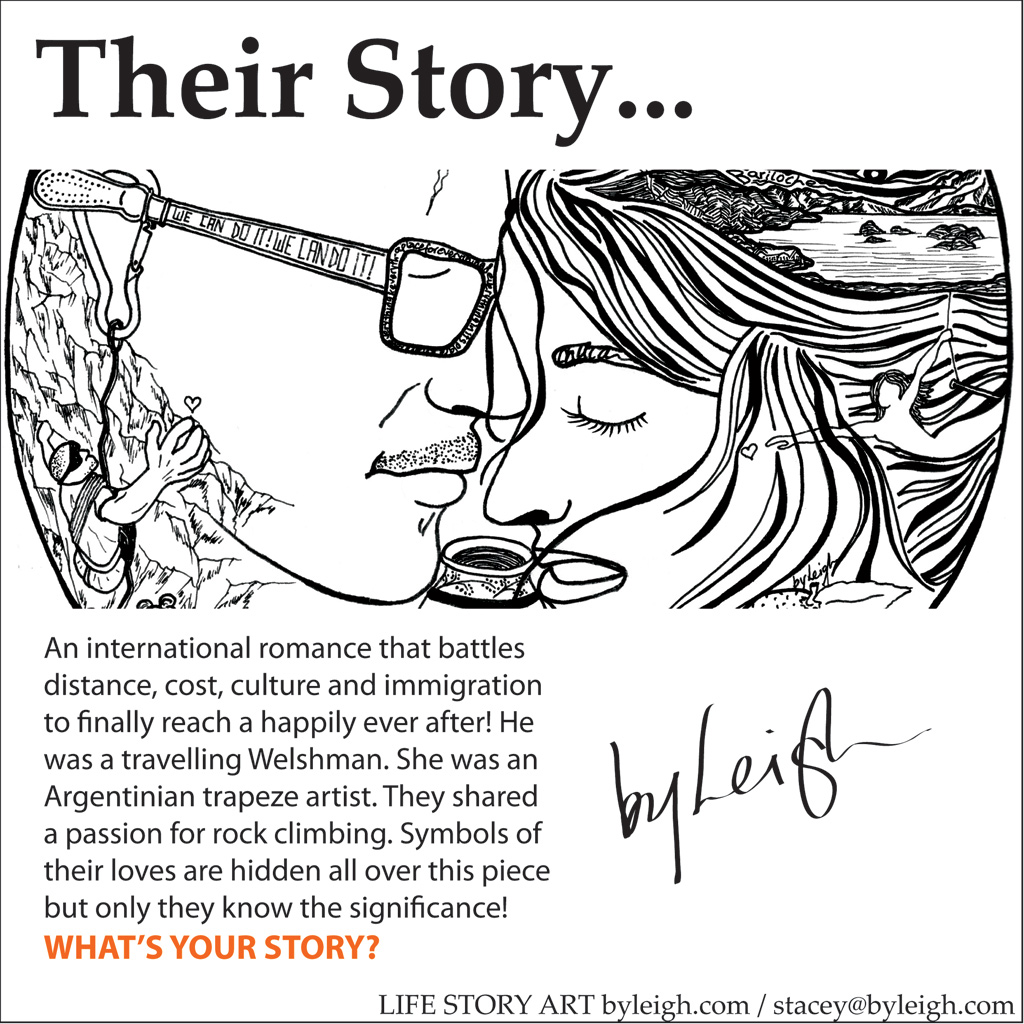 How fast can I do them?
The quickest I've done a Life Story Art piece is 2 days, but on average I tell clients 2 months to be safe, though I usually deliver before that. This allows me to ensure that even as I'm working on multiple pieces, they all get done on time.
There is a surcharge or "speed fee" for any commission that must be completed in four weeks or less.
The other thing that impacts on timing is how long I have to wait for the client to supply the info or items I need to personalise the piece. Some clients are very quick and others slower to respond. This can also affect the delivery timeline.
These are personalised paintings so I cannot tell the story if I don't know the story. Without client info, it would be impossible to craft a meaningful Life Story Art piece.
If you'd like to commission your own Life Story Art piece, email me on [email protected]
What's the Life Story Art commission process?
Once you express an interest in a Life Story Art piece, the next step is a phone call where I ask some questions to establish the scope of the commission.
I'll be honest, I ask a lot of questions, because the more I know about the story and the recipient of the artwork, the more personal the end product. Some clients are surprised by the number of questions I ask but all my Life Story Art clients see the finished artwork and totally understand why I work the way I do. One lady who was being given the commission as a gift admitted that she couldn't understand why I kept asking so many questions until she saw her finished piece and then she wished she'd answered all my questions and given more detail.
Once I have the story outlined and I understand the personality of the person who will receive the painting, I do a job brief. This document details all the information you've provided and the terms of commission along with a formal quote for your approval. This is the 'bible' that I work from to ensure your piece is exactly what we agreed.
The deposit for all commissions is usually 30% of the price and non-refundable. Work will start on a Life Story Art commission as soon as the deposit is paid UNLESS I am awaiting story info or personal materials that the client is supposed to supply. In such a case, work will start as soon as I receive those materials and info.
If you'd like to commission your own Life Story Art piece, email me on [email protected]
I'd be happy to answer any questions.
All personal information and images are held in the strictest confidence, and used only to inform the artwork. Unless otherwise agreed, images of your finished piece may be used to promote Life Story Art, however all identifiable images, names, etc will be blurred or edited out to protect client/recipient privacy. Images shared with by Leigh to produce the work will be destroyed within a year of the work being commissioned.
More questions?
Don't hesitate to get in touch! Email me on [email protected]
Quotes are free and I'm always happy to discuss how By Leigh could turn your story into art.