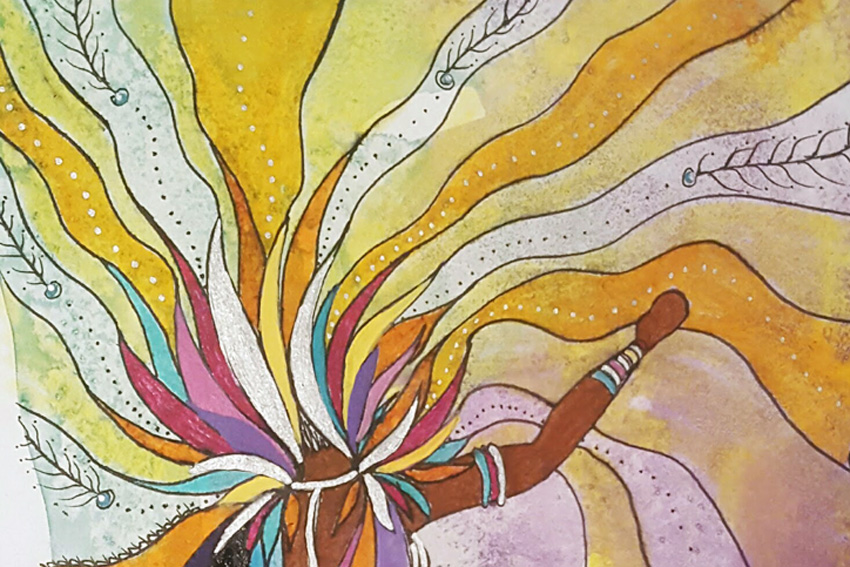 Featured artwork: "We Jammin' Still" sketchbook art 2017 by Leigh
5 Oct 2020
The half-arsed meditations I did while in self-loathing free fall must have been doing something because I remember coming out of one with the phrase Carnival of Compassion.
At the time, I certainly didn't have the headspace to do anything with it. But during my Friday evening communion with the sweet soca sounds of Kes the Band's We Home launch in the background, ideas began bubbling.
Before I hit you with the new ideas, it's probably a good time to explain that Carnival of Compassion is an evolution of my previous social change exhibition idea – Some Lives Matter.
Before Some Lives Matter, I had produced two exhibitions 'on my own'. Well as much as anyone does anything on their own. There's always a little support community involved in big things. Anyway, the most recent exhibition, No Place Like Home, was put together in about 6 months, possibly less, and that's including creating all 60+ pieces of art! Yet I sat on Some Lives Matter for 4 years! The idea of deep diving into the injustice and pain of so many different marginalised groups absolutely paralyzed me.
It wasn't until a Chopra meditation challenge earlier this year that some truths hit me.
I love art, but it's a means to an end for me. It's not the most important thing
The most important thing for me is TO BRING JOY to others
Art is my vehicle for bringing joy, that's why I love it.
Once I identified those truths about myself I realised that I was never going to get moving with Some Lives Matter, which by its very nature was about highlighting pain, inhumanity, and injustice before pondering how to resolve these things. In fact, my Joy Bringing nature was so far away from the nature of Some Lives Matter that I don't know how I ever thought I could do that exhibition without spending the rest of my waking hours in therapy. Perhaps I knew deep down in my soul and that's why I ran from it, found ways to work on it but go nowhere.
I came to think about Some Lives Matter as an exhibition that would 'push' people to see what was wrong. This push approach is absolutely essential and there are many extremely talented artists tackling this better than I ever could so how could I tackle this topic in a way that fit me?
Instead of pushing people away from certain behaviours and attitudes, maybe I could pull them? What if I nurtured our aspirations for a better world that we could create ourselves? What if I presented a way for us to have power over something i.e. our ability to be compassionate and fill the world with more love and humanity than it currently possesses? We don't need any government or corporate legislation to do everyday acts of compassion. I could bring joy by pulling my audience to a happier way of being. I could research and share the tools of compassion that I learn along the way. I could pull us all towards joy!
Oh yes, I was totally feeling this!
But I never connected it to my absolute love and passion for Carnival and its rich heritage until that half-arsed meditation when I emerged with the phrase Carnival of Compassion.
What a way to marry two concepts that excite me so thoroughly – Carnival and Compassion. Carnival is this expression of joy and unity and celebration born out of resilience and trauma. Compassion was missing then, as it is missing now and Carnival was the emancipated slaves' mental health/self care mechanism. Could I bring that self compassion and joyous sense of self and community alive here in the UK? Could I bring the best bits of my two homes (T&T and the UK) together? Only one way to find out…
Ladies and gentlemen, it's time to plan an exhibition!
Carnival of Compassion.
A celebration of Joy, Resilience, Community.
Oh gorm allyuh! Let the niceness start!