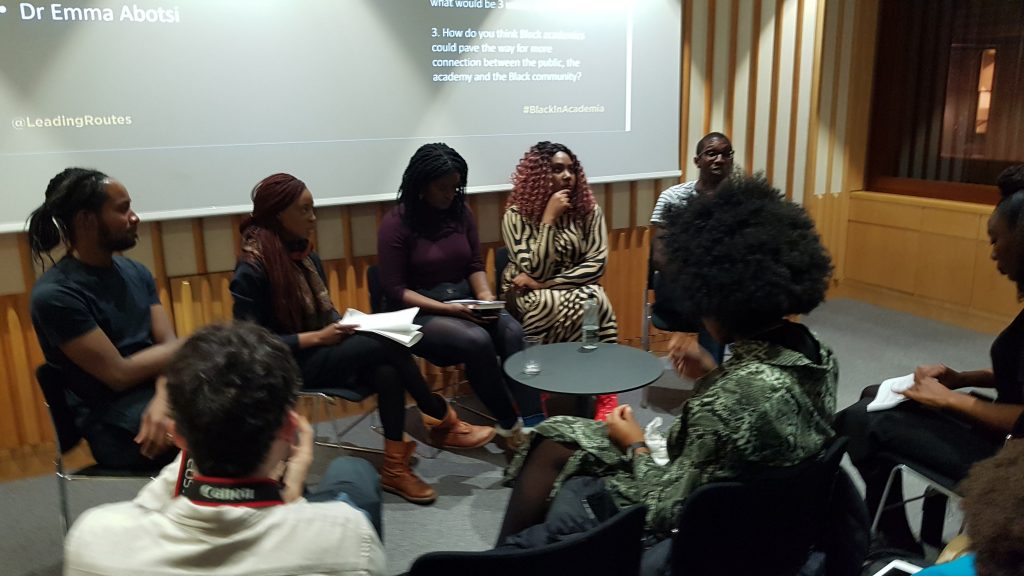 Featured Image: Panel at the BiA event. Photo by SLRoss
11 Nov 2019
A review of the Black in Academia Event held at the British Library, London on 11th November 2019
Ok, so firstly. Let me just say how absolutely bodacious it was to be in a room full of highly educated ambitious creative people who all look like me!
Not literally of course, but today instead of being the only black face in the room, instead of being the only minority present, instead of censoring my behaviour so automatically that I'm not even aware that I've got my armour on… today I was unabashedly me.
I laughed loud, I umm-hmm'd loudly like I was in church, I dabbed my eyes with tissue when I was moved to tears, and I was in no way self-conscious because everyone around me was being their unabashed selves too.
There were 5 speakers and boy did I learn from them. Here's what I got from their talks, panel Q&A and chatting with them informally during the 'mixer'.
Dr Emma Abotsi
Passion – Using history to educate and inform Sociology. Determined to tell the stories of people from her community so that they are delivered accurately and without a colonial spin.
Qualifications – British Sociological Association Postdoctoral Fellow at the British Library with an MSc from Oxford and an MPhil from Cambridge! (No pressure!)
My Take Away – Highly intelligent young woman with a massively bright future ahead of her but she wasn't really talking about things that interested me. I don't want to spend my life managing collections. I love that she is though, making sure that our esteemed sources of information tell accurate stories about black lives.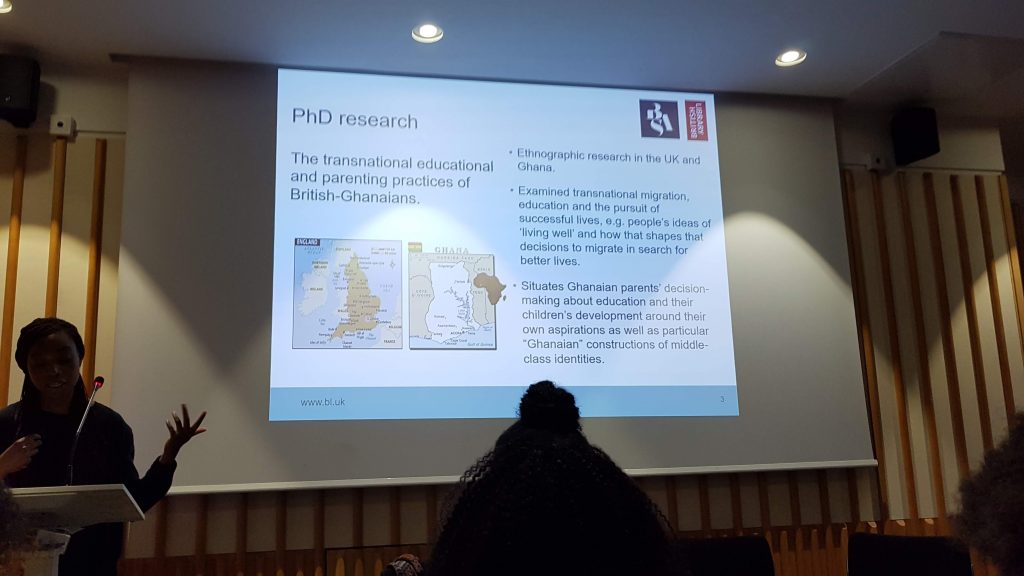 Dr Rochelle Rowe-Wiseman
Passion – gender and cultural historian exploring the cultures of her heritage (African and Caribbean). Particularly interested in inclusive education development.
Qualifications – Academic Development Lead at University College London, PhD from Uni of Essex, Author of "Imagining Caribbean Womanhood: Race, nations and beauty competitions"
My Take Away – Check out "Level up Your Academic Toolkit", a STEM students info pack to get into academia. She is the Academic Consultant Lead for UCL i.e. she supports academics on their research journey. Hmmmm…. Possibilities? She asked whether it was still worth doing a PhD? In answer, she stated
The one thing you should know about a research degree is: research is liberating because you can explore the content you want. It's not dictated from 'above'.
Essentially, you can set your own curriculum. Sweet! But I'm doing that in my practice…
Chantelle Lewis
Passion – Creating more opportunities for Blacks in Academia. She helped produce this event!
Qualifications – Doctoral student, Programme Director of Black in Academia, PhD Funding Guru
My Take Away – Getting a funded PhD is hard graft. It can take years of chasing to get what you want, where you want, with the supervisor you want. She listed so many potential sources for funding and finding a supervisor that I was dizzy. One thing they all had in common? Each route seemed like standing in the longest line winding down and around 5 blocks, in winter, to get into a nightclub that is likely to turn you away when you get to the door anyway. Pressure! Here are some of the topics she covered in her presentation –
Her caveat: This advice is necessary in the realm of institutional racism
Start early – Consider what you want to be a specialist in.
Be Sure – mental gymnastics
Think critically & carefully about methods (more applies to Arts & Soc Sci)
Choosing a Supervisor – accessibility, field of interest…
Is there funding in the department your potential supervisor is?
Feedback is in from students, from research councils. NOW contact potential supervisors – at least 4-5 supervisors.
WTF are Research Councils – Read broken pipeline report
Alternatives to Research Councils
Keep asking questions
In the meantime…. (when funding hasn't worked out… this year!)
Janine Francois
Passion – Making museum spaces (particularly the Tate) a safer space to discuss race and cultural differences. Curatorial practice is in women of colour, establishing 'community' as sites of resistance and co-production, embedding emotionality into cultural and academic institutions and ethics of care. [Side note: I wanted to weep with joy while this woman was talking!]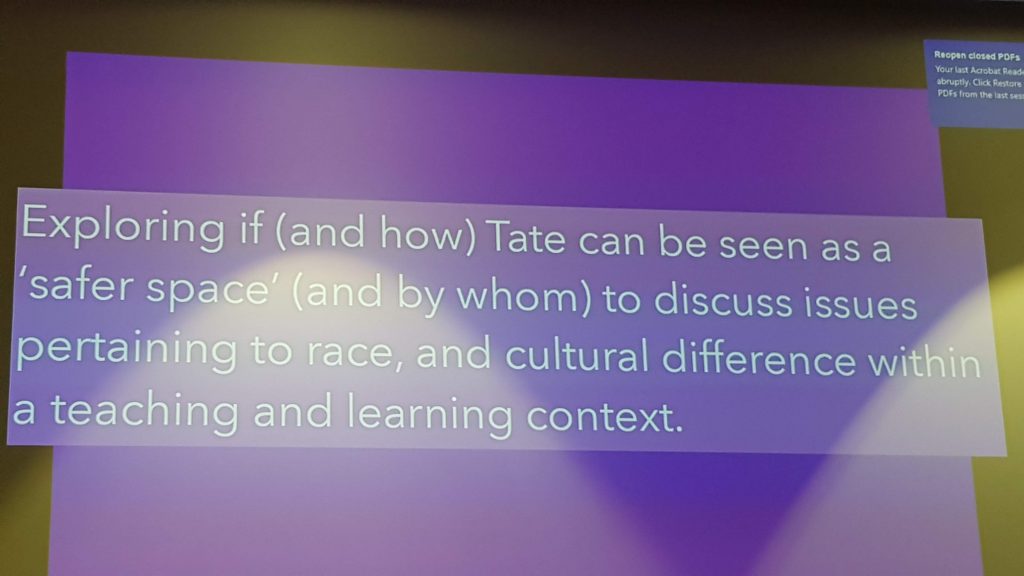 Qualifications – Lecturer at Central Saint Martins, Collaborative Partnership Doctoral student working with the Tate and Uni of Bedfordshire, and one of only 30 doctoral students of colour (out of hundreds of successful applicants) to get a PhD Placement this year.
It quickly became clear to me that this was the woman I came to see. I was so so moved by her talk. She is doing a practice PhD. I am considering one.
She is working with the Tate to create social change. I have been trying to figure out how to work with the Tate to do the same thing.
She is promoting emotion within education and culture. I am focussed on teaching the entire nation compassion!
I sat up extra and took note!
What a powerful talk. I was able to grab a few minutes with Janine after the Panel Q&A and she is more than willing to chat with me about my project and give advice. She even gave me a load of articles to read that might be useful for my research. This woman! For that alone, it was worth coming to this event. Plus, bonus! I gave her one of my Life Story Art postcards and she knew my name and brand?! OMG! Breathe Stacey. Breathe!
Chris Jackson
Passion – rocks, seismology, geology, equality, diversity and inclusion.
Qualifications – One of the few black professors in the UK. Geoscientist at Imperial College
My Take Away – Chatting during the mixer afterwards, I told him why I was there, what I was trying to figure out and he actually said to me, if I don't need to do a PhD to get my project done then don't do one. If there is a more cost effective, less stressful way to create this, go for that. Hmmm…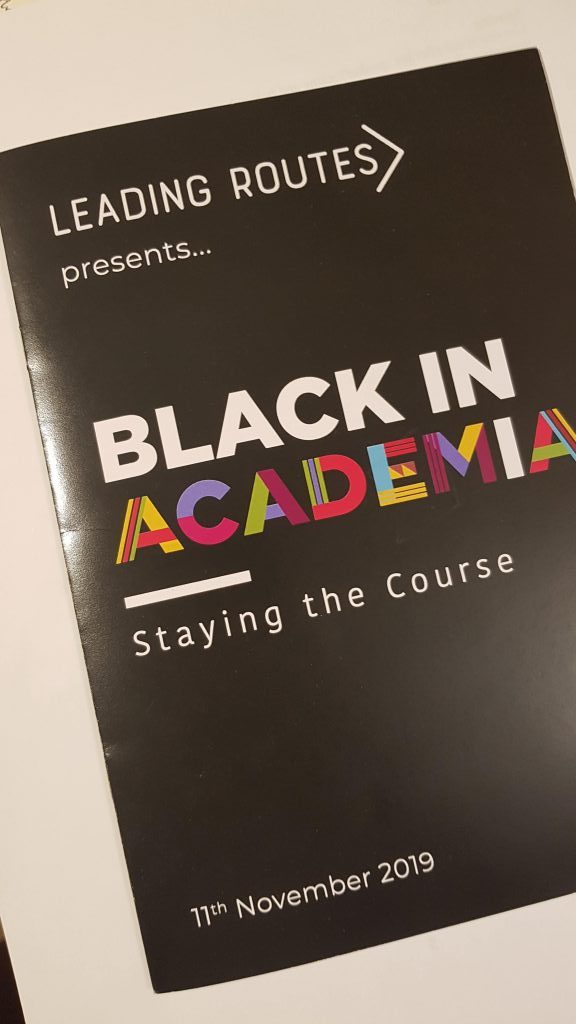 OK, my brain is once more blown…
Finally, I also learned about some opportunities, some books to add to my reading list,
Opportunities
Disrupting the Discourse (to speak about my practice)
Paths to University / Future Scholars (for D & Zo)
BL – Collaborative PhD Partnerships
BL – Conferences, Training and Events
BL – PhD Placement Programmes – 3 mth placement at the Library
Funders – The Ubele Initiative
Reading
The Broken Pipeline report
Black Feminist History of Beauty in the Caribbean (Dr Rochelle Rowe-Wiseman)
That evening was so absolutely worth the time, the train fare, the late night travel back from London. So so worth it!
—
References
Leading Routes (2019). Black in Academia: Staying the Course. In: Black in Academia: Staying the Course. Black in Academia: Staying the Course. London, UK: Leading Routes, p.2.