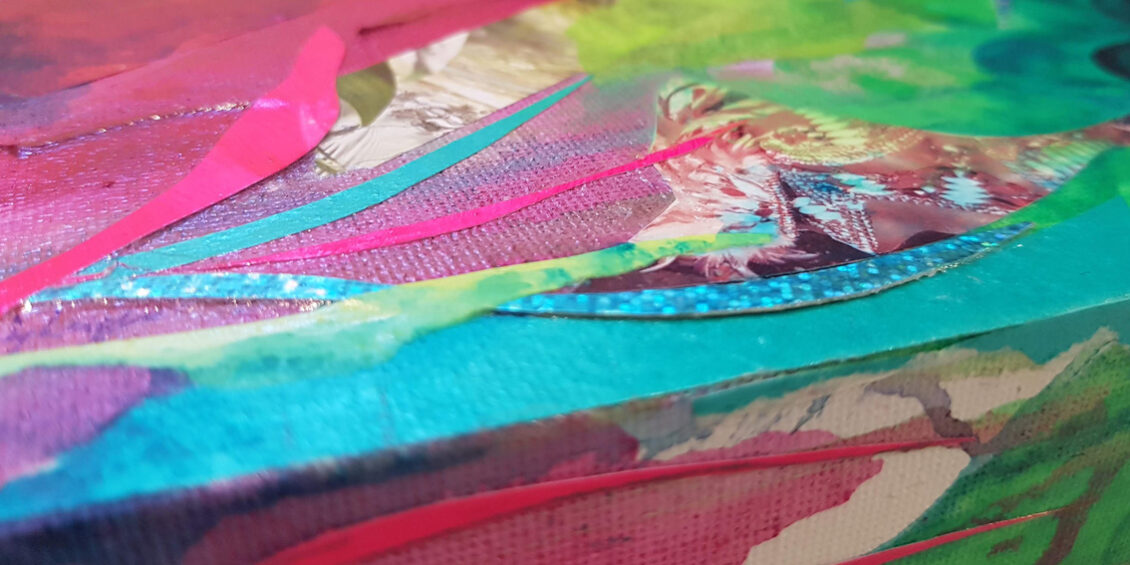 Featured Image: Partial of Lush by Stacey Leigh Ross
9 April 2019
It's official. I am no longer on top of this blogging thing with regard to my PgCert.
Today we were doing 3 minute presentations that were basically an update/pitch to tell the teaching team about our artefact and the inclusivity intervention we planned to use said artefact in. I planned my presentation on the train in. You see? Officially falling behind.
The first hiccup was I thought that we had 5 minutes, not 3. There was some hasty last-minute crossing out going on so that my planned presentation ended up looking like this:
Art and social change is my passion
I'm planning a large exhibition that is all about art as a social change agent.
It's why I chose to do this PgCert
I was assigned to Foundation CCW in Wilson Road, Camberwell
International students make up almost 50% of that student population
Given cultural differences and clashes, students don't always make each other feel welcomed.
Inclusivity is more than "Oh alright, come in if you insist", it should be "Come in! We'll make space for you to join us!"
UAL has an excellent equal opportunities policy but it's so far from the students day to day life
My intervention is designed to bring home the concept of inclusivity with respect to…
The protected characteristics – Race, Nationality & Ethnicity
Hand out stimulus boards – 1 per table (I ended up doing this at the start. Boards are pictured below)
Explain my intervention workshop plan for Illustration students in Autumn Term
Mention getting honest anonymous feedback via Padlet
Mention the Compassionate Action art students will produce by the end of the day and
The Everyday Compassion Exhibition their art will create (like a visual Group Agreement)
Explain Compassion is the motivation, to create the knowledge that each of us has the power to do something to make the world better, that every baby step counts.
Mention desire to use WindFall RushOut painting but limitations due to rooms, class size.
End
Needless to say that was way more than 3 minutes. Lord know what I actually said when I got up there. Especially since nobody mentioned that we'd have a panel of UAL bigwigs watching our presentations. In light of the new pressure, I decided to present mine asap. Waiting for last would stretch my nerves taut. S beat me to it and presented second, so I went third. So so glad that I did. When I later found out exactly who was on the panel, I was just really glad I didn't know when I was doing my presentation. Less pressure!
Below are 2 of my 8 stimulus boards. Please visit #UALSoWhite, #ITooAmSOAS and #ITooAMCambridge for more pics like the ones on the Social Media board.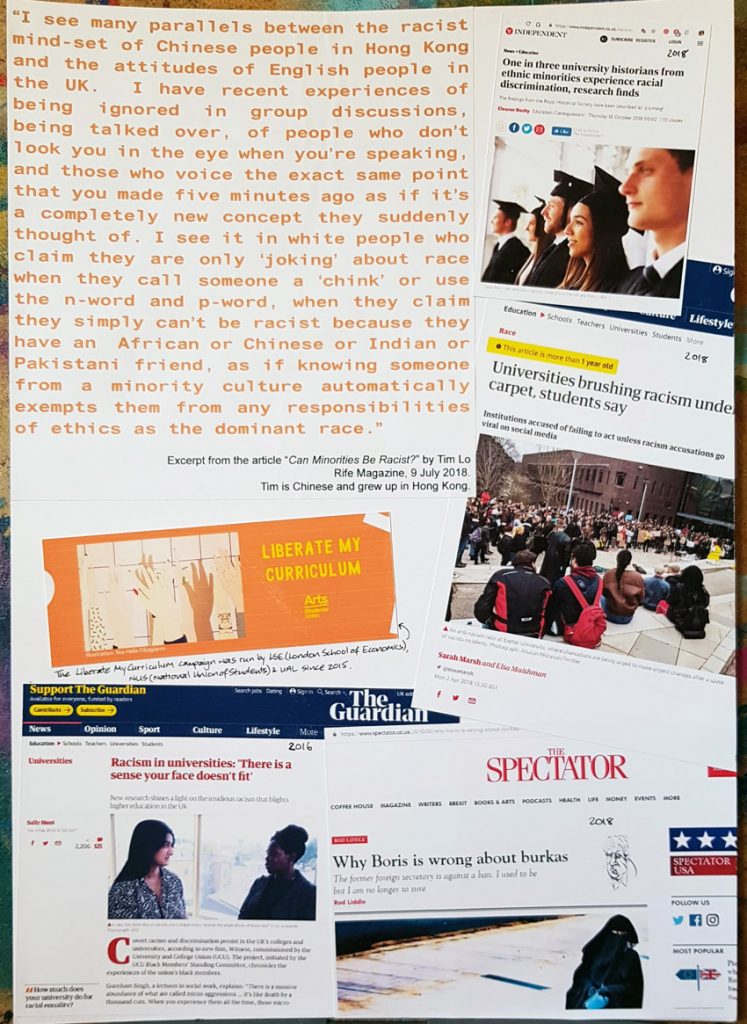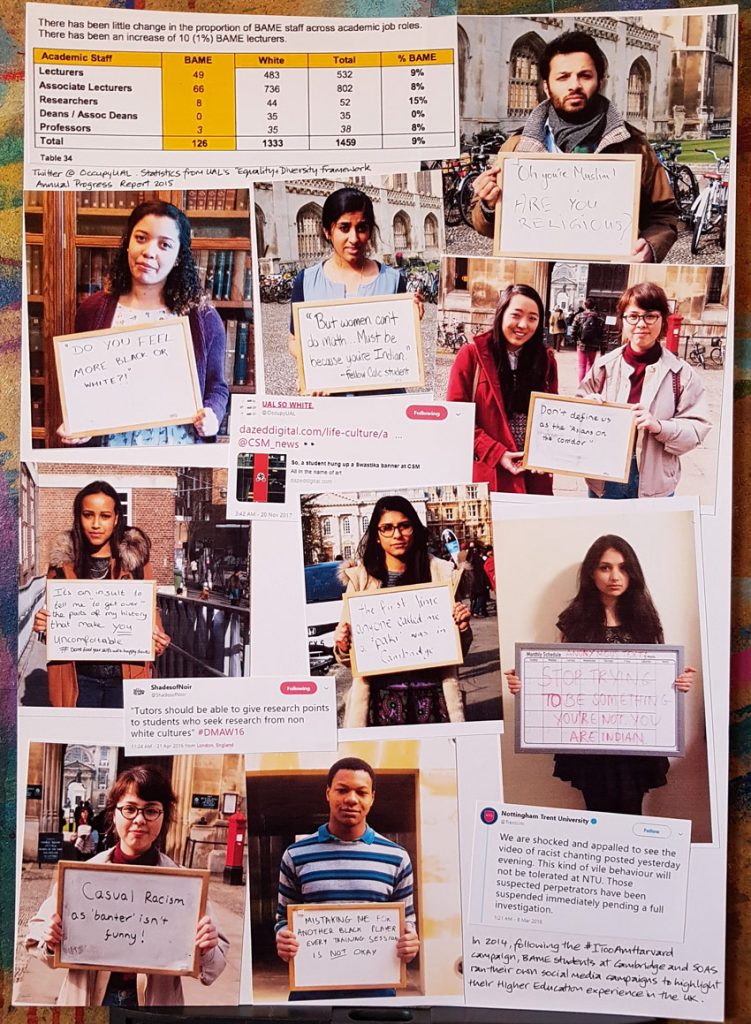 I got amazing feedback with excellent suggestions and ideas to help me move the workshop forward. I've included multiple snapshots of some of the feedback I got below. The blue post-its are from members of the panel, all other colours are from peers and staff on the Inclusive Teaching & Learning Unit.
Still, for all the amazing feedback I received, it's the comments from Angela Drisdale-Gordon, Head of Further Education Office (Eeek!) that had me flying high. She said my workshop plan was a bold and much needed intervention, that she would be following up to see how it went, that she had heard about me before she even got to our class that day because Foundation CCW has been raving about me! Oh wow! That just blew my brains. I couldn't believe they were raving about me as much as I was raving about them and their wonderful welcoming approach to including me on their teaching team. And to get that feedback in front of the whole class? Child, let me tell you, black people can blush ok! Thank you for making my day Ms Drisdale-Gordon.
The next fabulous piece of advice I got was from Annabel Crowley, UAL Access and Inclusion Specialist and Co-chair of UAL's Group for the Equality of Minority Staff (GEMS). I went to speak with her afterwards because she mentioned a book about Empathy vs Compassion that had me curious and I wanted to get the details. (It's Against Empathy by Paul Bloom.) While chatting she cleverly asked me whether I thought anyone could pick up and run this workshop. It was her way of reminding me that my emotional intelligence skills are what make me capable of running such a sensitive workshop. We got to talking about how much I credit my Mum, a teacher and facilitator, for this skill. Annabel advised that I include this influence in my write-up, citing how my mother taught, and still teaches about relationships and emotional intelligence, and that from childhood, I was learning about conflict resolution, body language, tone of voice, conversation objectives, psychological button-pushing, reading people, energy exchange, emotional intelligence and more. It was part of my everyday life. I admit, I hadn't even considered this. Thank you Annabel.
Looking at the other presentations that afternoon, there were so many excellent ideas from my peers. S's glitter box, R's accessiblity, M's storytelling, L's tech videos, and so many more. I confess that a few of the presentations confused me. I noticed that these project ideas often required an understanding of the inner workings of the university, an institution whose systems I was still learning. So as a newbie, some things went over my head. The feedback, questions and comments from the class helped a lot in helping me to figure out most things but in one or two cases, I must confess that I just didn't get it.
In only one instance did a presentation actually make me vibrate with rage… so much for all that emotional intelligence right? You can read about that here, but in the meantime remember that no one is perfect and despite all our knowledge, we all slip up every now and then. I credit my emotional intelligence skills with me remaining quiet and not lashing out in the vicious way that my emotions were pushing me to react. I'll take that as a win for now. The ultimate win would be to totally disconnect that button so no one can push it. I've got my toolkit out and believe me, I am working diligently on disconnection!
So what's next? Getting off here to go implement all the advice I've been given so I can send my completed workshop plan to the Illustration lecturer, and send Intervention write-up version 2 to my tutor.
See ya!