My 10-minute Self-Initiated Project (SIP) Presentation
My head might explode.
There are way too many balls in the air and a new ball is joining the party – the Self-Initiated Project (SIP) Unit of my PgCert.
Today we each did a 10-minute presentation about what we plan to do for our SIP in September. Here are the instructions we got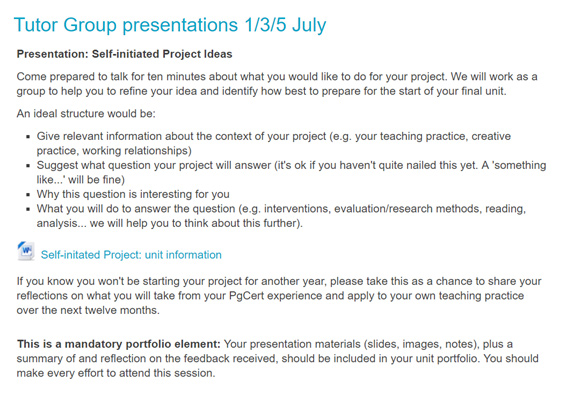 After painting for almost 72 hours straight to complete a commission that was due on Monday, I went to the part-time job from 7:30am to 5:30pm on Tuesday. I did plan to come home and start working on my presentation but after falling asleep while reading bedtime stories to the kids, I surrendered and was drooling by 9pm. So my presentation started this morning on the 7:09 train out of Royston. Working off my mobile to reference the above screen shot, I began scribbling presentation content in my PgCert notebook. I couldn't just talk this through in class because the Workflow page I have to submit for my Teaching & Learning assessment requires that I upload my presentation, so PowerPoint, here I come. By the time we hit Finsbury Park, I had some idea of what slides to create for each of the suggested sections and I was feeling like a hero.
A couple hours of porridge and PowerPoint at Leon St Pancras helped me avoid the Tube during rush hour and then by 11:30am I was in Holborn putting the finishing touches on my presentation. I was grossly aware that I hadn't run through this presentation at all, but honestly, I was just pleased that I managed to do it at all. At this stage in the programme, I feel like I'm running on fumes and struggling to keep up.
Four presentations in I was pretty sure I missed something so I went back to Moodle to double check the instructions. *Cue mad cackling* You know that screenshot of the instructions above? Well apparently, this is what I saw. You might notice that some stuff is missing like… there was an attachment? Where did that come from? *more hysterical laughter*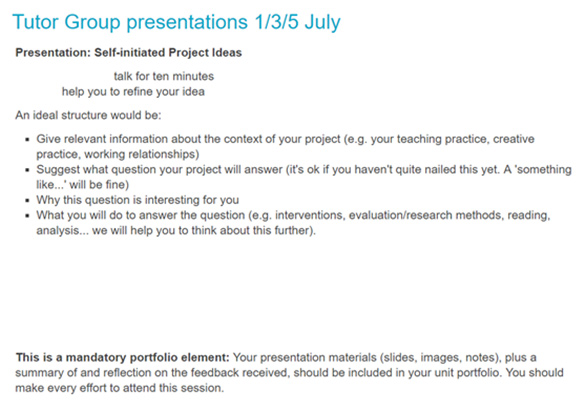 So when I finally gave my presentation, there was some awkward rambling at the start but I got the flow eventually, when I had 3 minutes left. Ha! But it still feels like I missed the point.
The SIP Unit is about research and how we handle ourselves in collecting, analysing and using data for a purpose. This was not the focus of my presentation. In hindsight, my presentation was about continuing to develop my intervention, not how I will use research techniques to achieve…
And therein lies the crux.
In the presentation, I defined my research question as:
Can I cultivate an inclusive HE learning environment by:
(1) Raising awareness of discrimination, and
(2) Presenting students with a solution that they can own and enact – daily compassion?
The problem is – I neglected to discuss how I was hoping to conduct this research and how I would assess the findings of my research. I also didn't realise how focussed on research this unit was. This is a tunnel-vision problem. When I'm juggling too many things, I tend to work from deadline to deadline and I don't lift my eyes to look ahead and see what's coming.
I really need to sit down and look at the SIP Unit material, scrutinise the course objectives and assessment criteria, step back from my project and look at it from a research perspective. I'm still looking at this from a Teaching & Learning Unit perspective and I need to move on from that. I also need to read some of the books for the SIP Unit and get a handle on the research options out there before deciding which would be the best for this project.
The other issue that came up was the scope of my project. It's probably too big (what's new!) but I'm not sure what would be too little or too big for this time frame. Check out some of the other peer feedback I got after my presentation.
I know I definitely want this research to feed into my art practice project – Some Lives Matter – but how? Where do the parallels really live? What would truly be the most beneficial research to getting Some Lives Matter off the ground? Do I test what works in cultivating social change? Do I analyse which art gets the most recall and response? How would I measure the effectiveness of the intervention and which aspects of it were most useful and which weren't?
At the end of this PgCert, I don't just want a qualification and a way into teaching at higher education level. No, I plan to leave with a clear idea of how to make Some Lives Matter work because I don't just want to curate a national exhibition, I want to successfully curate social change. So this research is crucial. I need to think very clearly and very strategically about how I turn my SIP experience to my and my students' advantage because I see no reason that we shouldn't all win.